We encourage you to watch the video, however below are some highlights from Matthew's video where he discusses the key factors critical to making informed decisions in the property market.
In summary: What lies ahead?
The handbrake is coming off:

Interest rates stabilising​.
Short-term house price growth.

Population and jobs growth continue
Housing Supply will start to fall behind again.​

Less supply, more demand.

Prices and Rents will increase​

Affordability will remain the key
Interest Rates
Major financial institutions anticipate that the Reserve Bank may raise interest rates once more, but overall, they are near their peak. However, over the next 18 to 24 months, interest rates are not expected to drop significantly. One key point worth noting is the APRA (The Australian Prudential Regulation Authority) mandated serviceability buffer, which was raised from 2 to 3% in 2020 when interest rates dropped. As interest rates are now nearing their peak, there is a higher likelihood that APRA will lower the buffer to 2%, making housing more affordable for many who are currently priced out of the market.
Now lets look at some of the key indicators:
Lagging indicators, help us gain insights into past trends that have influenced the property market.
Dwelling Prices
It's evident that house prices and the median house price have been on an upward trajectory, primarily driven by Sydney since the beginning of the year. However, the growth in Sydney's median house price is now starting to taper with Brisbane emerging as a significant player, rapidly picking up speed, alongside Perth.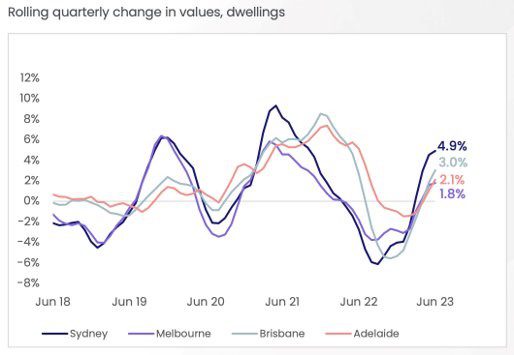 Leading indicators, offer valuable foresight into the market's direction in the coming months.
Rental Growth
Rental Growth remains robust at an annualized pace of 9.7%. However, not all cities experience the same rental market dynamics. Perth stands out with a remarkable rental growth of 13.4% over the past year, maintaining double-digit growth for consecutive years. On the other hand, Brisbane, Sydney, and Melbourne are witnessing an easing in rental growth, with Sydney expected to further decline due to an increasing vacancy rate. Other cities, such as Canberra and Hobart, have seen a shift in supply and demand balance, leading to decreased rental growth of -2.8% and 1.3%, respectively. These trends highlight the critical role of supply and demand in the ongoing housing crisis and its impact on rental prices across different cities.
Economic indicators, give us a glimpse of the broader economy, allowing us to gauge its impact on the property market.
The trends in population growth and employment underscore the robustness of the Australian economy and its potential impact on the housing market.
Population Growth
Australia's population growth remains high, particularly in Queensland and WA. WA, in particular, stands out with an impressive annual population growth rate of 2.3%, leading to an exceptionally low vacancy rate and rapidly rising rents in the region.
Unemployment Rate
Australia's unemployment rate has stabilized at approximately 3.5%. Interestingly, the number of employed individuals in the country has steadily increased, even during what could be considered peak unemployment levels. This steady upward trend reflects a strong job market where almost everyone who desires employment can find a job. In the last 12 months alone, over 500,000 additional people have entered the workforce, resulting in a significant increase in the number of people earning money in Australia. This boost in income enables individuals to afford higher rents and potentially invest in property. However, it's worth noting that the number of properties built during this period has not matched the influx of employed individuals, highlighting the ongoing housing supply-demand imbalance.
Listings
Listings in the property market have begun to show an upward trend.  As house prices experience growth and positive sales activity after a period of uncertainty, more property owners are gaining confidence and choosing to list their properties for sale. This increased activity, however, has not resulted in an oversupply of properties. The market's high auction clearance rate, consistently above 70%, absorbs the additional listings, ensuring a balanced demand and supply. This healthy market trend is a positive sign for property owners and investors alike.
Vacancy Rates
Vacancy rates are showing an upward trend in several cities, notably Sydney, Canberra, and Hobart. Part of this increase can be attributed to the completion of backlog housing and apartment projects in the last six months, adding new supply to the market. The pipeline of construction work is expected to continue, with completions being absorbed mainly by overseas arrivals.
Dwelling Commencements
Dwelling commencements are at a low point.  Considering Australia's population growth of over 2.5 million in the last decade, there should have been a substantial increase in housing construction. However, the opposite is true as new housing starts continue to decline. Unfortunately, the long-term indicators suggest that the undersupply issue will persist.
Interest rate rises have had a dual impact on the housing market. While they can help control inflation in the short term, they also deter new housing construction. As a consequence, Australia faces the risk of a considerable under-supply of houses due to the lingering effects of these interest rate increases.
Consumer Sentiment
Sentiment plays a crucial role in shaping economic perceptions and behavior. In the past year, consumer sentiment has mostly remained low, hovering around the 80 mark or below 90, indicating a negative outlook. However, recently, there are signs of improvement in consumer sentiment. This is attributed to interest rates possibly reaching their peak, leading people to become less pessimistic about their financial future. As a result, people's expectations regarding their finances for the next 12 months have improved.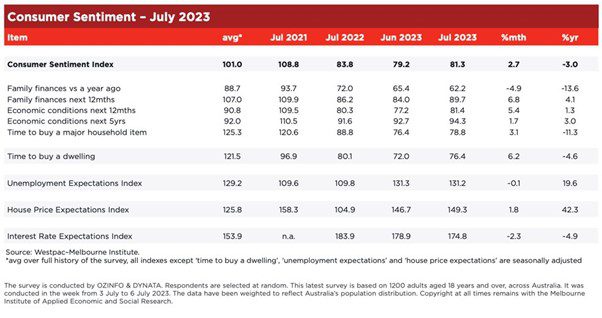 Overall, the property market in August 2023 looks promising, with improving sentiment, population growth, and employment. Investors and potential buyers are advised to take advantage of this window of opportunity and make informed decisions based on these market foresights.