In this edition of Market Foresight, Matt Lewison, CEO of OpenCorp, shares valuable insights regarding the market's recent performance, the impact of the Reserve Bank of Australia (RBA), and the outlook for property investors. Matt helps shed light into the trajectory of the housing market for the short to medium term.
In the ever-evolving landscape of the Australian property market, being an informed investor is paramount. Therefore, we encourage you to watch the video however if you don't have time below are some key insights shared by Matt. 
Australian property market is currently experiencing positive growth trends, with increasing dwelling values and a promising outlook for the future. While short-term challenges exist, the medium to long term holds significant opportunities for investors and homeowners. As interest rates stabilize and consumer sentiment improves, the housing market is poised to flourish.
The RBA's Impact: The handbrake is about to come off with interest rates stabilising
The RBA has plays a pivotal role in shaping consumer sentiment and market dynamics. By increasing interest rates and managing messaging around future interest rate outlooks, they have effectively kept consumer sentiment at low levels. The intention behind this strategy is to prevent excessive spending and promote cautious investment behaviour.
As consumer sentiment improves and people regain confidence in the economy, a phenomenon known as the "worst is over" effect comes into play. This effect typically triggers increased investment in housing and significant growth in house prices. The current survey data indicates that over 75% of respondents expect house prices to rise in the next 12 months, further reinforcing the anticipation of increased market activity.
Dwelling Values and Market Performance: Short term house price growth
Recent data indicates that the rolling three-month change in dwelling values has been on the rise across major capital cities in Australia. Sydney has been leading the way in terms of growth, followed by Melbourne, Brisbane, Perth, and Adelaide.
Sydney's market is often regarded as a leading indicator for the rest of the country due to its significant impact on the overall housing market. When Sydney starts to experience price growth, other cities tend to follow suit. Consequently, Brisbane and Perth have been gaining momentum and are currently hot on the heels of Sydney. In June alone, Brisbane and Perth saw a 1.2% increase in the median house price. This presents opportunities for investors to capitalize on the upward market momentum.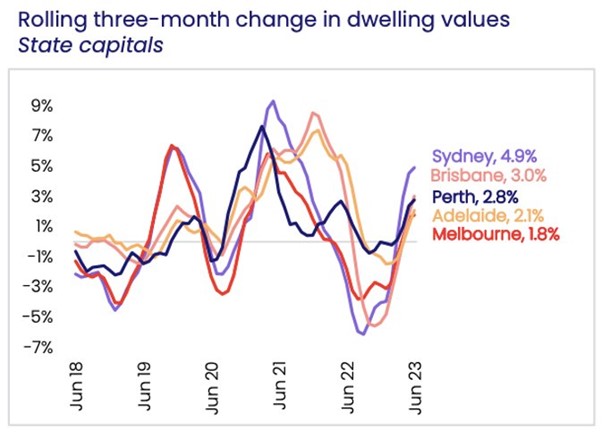 Source: CoreLogic
Supply and Demand Dynamics: Supply will take more than 12 months to catchup
A key factor influencing the market is the decrease in dwelling approvals, which leads to a decline in future housing supply. As a result, house prices and rents are expected to increase over the medium to long term. While this may present short-term holding costs for investors, the potential long-term benefits far outweigh these initial challenges.
Rents will continue to increase
Although double-digit rental growth may not be sustainable over the long term, stable and consistent rental growth ranging from 5% to 10% is anticipated in the coming years. Investors are encouraged to maximize their holding income during this period of growth, as rental prices are likely to rise across various suburbs.
Population & Job Growth Continues
Despite a temporary increase in the unemployment rate, the Australian property market is positioned for continued growth due to factors such as population and job growth. The influx of new residents will create sustained demand for housing, while the supply of new properties is projected to lag for at least 12 months. This supply-demand imbalance is expected to drive prices up, benefiting both homeowners and investors.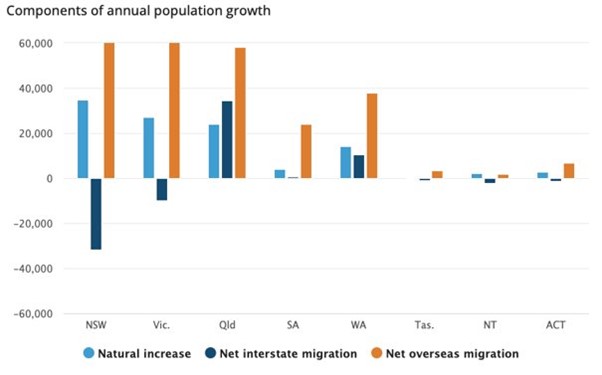 The Australian property market holds tremendous potential for property investors. As interest rates stabilize and the RBA's influence wanes, the handbrake on the market is expected to release. Short-term house price growth is already evident, with Sydney experiencing a $70,000 increase in the median house price since January 2023. As the market gains momentum, accelerated growth is projected which is great news for investors.